This is only one of several playground equipment pieces created by Dixon Manufacturing, with others including slides, binoculars, telescopes, towers and other swing designs – basically anything asked for in metal by the customer – a Franklin subdivision of Playco Playground Equipment.
In fact, Dixon's playground constructions have also travelled as far afield as Adelaide and Sydney.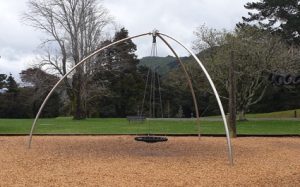 A professional and diverse team
As well as receiving custom by all important word of mouth, it is easy to see why Dixon Manufacturing presents an appealing option for all forms of stainless steel/metal product creation.
The company employs upwards of 17 skilled people and several trainees/apprentices with a range of skills including welding and fabrication, engineering, water jet operators, CNC & Manual Lathe operation, press work and of course tube bending & rolling. 
And the product range is equally diverse
The team creates everything from marine boarding ladders, handrails and toasters (the company's original products) through to manufacturing products for marinas, Kiwirail, the dairy industry, retail and commercial building and construction and even artworks.
Dixon Manufacturing works with products in stainless steel, aluminium, titanium & steel.
"We are happy to look at any project in metal where we can use our capabilities and machinery – from small bespoke jobs to large production runs.  "Our waterjet cutting machine alone is very capable of producing complicated shapes or patterns and is not exclusively in metal, either."
One eye on the tiller, the other on the horizon
Recognising opportunities is key to all companies invested in stainless steel development and Dixon Manufacturing's arc reflects just that.
"We were originally only a supplier to the Marine Retail Industry which was greatly affected by the last global financial crisis but we quickly realised that our skill set was very adaptable to many other markets," says the director. 
"A large part of our growth has been providing products for refurbishment of many of the NZ Marinas and introducing new products to suit their needs."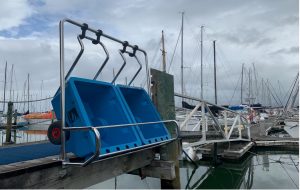 A client list to be proud of
In fact, the company has created diverse products for most New Zealand marinas, Kiwirail, Playco, DTS, Core Builders, ITSS, Stabicraft Boats, Image Boats, White Pointer Boats, Whitworths (Australia), Heron Construction, STF, Longveld, Hallett Enterprises, Sealegs, Woodview Construction, and Total Floating Systems.
The future is always bright with stainless steel
Jane Warren says the future is bright for Dixon Manufacturing and the industry generally. "One strong future avenue for us is all the infrastructure within New Zealand that is coming to end of life, particularly where steel has been used in the past in exposed elements.
"At Dixon Manufacturing, we are able to refurbish or replace degraded steel right here in New Zealand – utilising a material that is extremely sustainable and recyclable. "This avenue alone means we will have plenty of work for many years to come."
Find out more about Dixon Manufacturing online here. (https://www.dixon.co.nz/)