MPF Engineering's Proactive Approach
8 December 2023
Jacob Ryburn from MPF based in Tauranga, created a post on LinkedIn about a recent trip to the Philippines with his welding supervisor Luke to interview potential welders for their business. And I was curious enough to ask him for an overview of his experience. 
As we all know, finding and retaining staff has been a challenge in our fabrication industry for some time now. After trying approaches such as relocation packages, signing bonuses (and bonuses to existing employees if they recommend a successful new employee) plus competitive pay levels, Jacob decided to be internationally proactive, and with the immigration visa system being opened up in early 2023 he started plans to rectify his staff situation.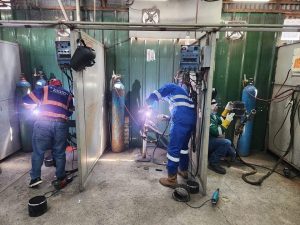 With the Philippines having an acknowledged reputation and history for highly skilled welders, discussions were held with their existing Filipino staff, from whom they were able to create a list of potential candidates. These were in turn contacted for their interest and subsequently asked to send both photos and videos of their welding work. As a result, about 20 candidates were selected, and the company moved on to the next stage – contacting and booking a welding training facility in the Philippines where they could undertake in-person interviews and trial welding. 
The first major learning appeared at this stage – all of these facilities are associated with local labour agencies that effectively control their operations. So rather than dealing directly with the facility, they were directed towards organising their visit with recommended locally-based agencies. One subsequent benefit is that these agencies are well established in handling international enquiries for staff, and it gives a layer of assurance on both sides.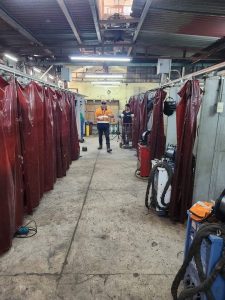 Given the current world labour market situation, it should not have been a surprise to be advised that these facilities are heavily booked (with the facility selected just completing a review involving approx. 900 welders over 2 weeks for an Italian shipping company). Despite this, Jacob was able to arrange for a time slot for his candidates. 
During the welding trials, it became very apparent that one of the key requirements was to ensure a high English language capability for the candidates (another key learning for the preliminary video content) – particularly as they need to settle as quickly as possible into an NZ working and living environment on arrival. 
Ultimately Jacob and Luke had a short list of three applicants, and with their acceptance of new job offers, immigration applications commenced. This was within the strict ruling in the Philippines around overseas hiring of employees, where a maximum of 5 staff may be processed under a "direct hire" scheme, with the Philippines Labour Office acknowledging that an urgent labour need exists. Under this process, the amount of paperwork and approvals required is reduced compared with their standard processes. 
The next important learning was to engage with a reliable local (NZ) immigration agent who understands the government department requirements. Despite this being an additional cost, it meant that the whole immigration process could be sped up, and as a result, the three new employees were due to arrive in June – a relatively prompt turnaround. 
The risks are high, with MPF having to pay for flights, accommodation on arrival, their original trip to the Philippines and engaging the agents involved. And with the government removing the visa requirement that staff remain for the first three years with their employer, the onus is on the organising company to provide a working environment where the new employees are welcomed, assistance is given for the basics such as opening bank accounts and possibly financial transitioning. Competitive pay rates are also an important factor in attracting and retaining staff – particularly for skilled welders – with instances locally where working visa staff have been taken advantage of. Particularly once these staff arrive and fully understand the relative cost of living compared with their home conditions.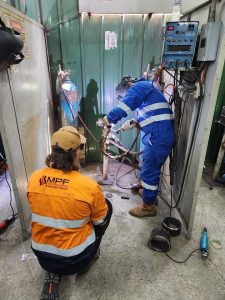 The rewards to the company short term will be high, with fully trained skilled workers who can start to contribute to the company workload almost immediately upon arrival. But MPF is committed to a longer-term view, where staff are not just paid competitively, but are actively supported in their new country – a long-term asset to the company rather than a "quick fix" approach. 
If you want to learn from the experience gained by Jacob, he is open to discussing further with NZSSDA member companies, in order to benefit from his new knowledge. admin@mpfengineering.com