Join the revolution and refill with stainless steels
30 September 2023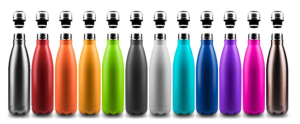 On Friday 16 June it is World Refill Day. World Refill Day is a global campaign to prevent plastic pollution and help people live with less waste. To join the revolution we must all choose to reuse, find places to refill and inspire others to make the same change.
You can easily join this revolution by taking the following steps:
Encourage your family, friends and colleagues to take pictures of them refilling with stainless steels on 16 June
Ask them to share these pictures on social media with the hashtag #WorldRefillDay
And finally to let us know by tagging us in the post copy or image by using our handles which are shown below:

Twitter: @worldstainless1
Instagram: @worldstainlessassociation
LinkedIn: @worldstainless
Facebook: @worldstainlessassociation
Let us all show the world stainless steels are part of the refill revolution and solution to plastic pollution.click here.
For more detailed information,